New York City WILD!
URBAN NATURE WALKS Exploring the GREEN of New York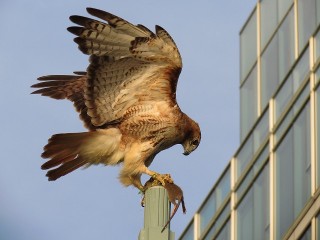 See More of New York! with Keith Michael, urban naturalist

NYC Wild! Walks are a playground for Birders, Naturalists, and Photographers.
Visit significant green spaces and historic destinations in NYC to reconnect with the rhythms and sheer wonders of the natural world in our urban midst as a potent antidote to the stress and frenzy of To Do Lists, hand-held devices, and alternate side of the street parking.
---
"To go on an adventure with Keith Michael and friends is to discover a wild and magical world hidden in plain sight in the midst of NYC. I've hiked with him in all 5 boroughs, watching shorebirds and song birds and swans (dozens of them) in Jamaica Bay, wild turkeys in the Bronx scratching for food under ancient trees near a stunning memorial to the Titanic, horseshoe crabs in Brooklyn coming ashore to bury their eggs under the light of the full moon, a Staten Island nature preserve with bird filled forests, wetlands and shoreline, even the site of the tree in northern Manhattan beneath which Peter Minuit is said to have purchased this island from the Lenape people. And each trip was meticulously researched and carefully planned by Keith, who is incredibly knowledgeable about birds and has an unerring knack for finding them. Highly recommended!"
Lisa Kleger, Systems Consultant
"Keith's walks showcase the details and edges of NYC where wildlife and beauty are abundant. His strong trip organization makes each walk a breeze for participants. You simply show up with interest and Keith leads you through one of NYC's many wild spaces, highlighting the wildlife and stories that only a patient and trained eye can see. These walks are also flocked to by wonderful people who are a bonus to the relaxing and enriching walk.
Carrie Roble, Hudson River Park, Director of Environment and Education

"Every single time I joined Keith's nature walks, I experienced a never ever to forget moment of beauty. Keith is an experienced bird watcher and has pointed out rare species, i would have missed without him. Highly recommendable to experience in the area of NYC."
Addy Onstwedder, General Manager, The Netherland Club of New York


"Wise and witty, Keith Michael is a keen observer of people, places, and above all, things. With intrepid spirit and deep generosity, his walks explore the unexpected pockets of wildlife throughout the five boroughs. A self-taught naturalist with a swashbuckler's sense of adventure, he reveals how these surprising little spots thrive in their urban surroundings. Keith's unbridled fascination with everything around him and the great pleasure he takes in sharing their secrets make him a fantastic guide to the world few of us ever even notice, let alone get to experience."
Valerie S, Veteran Walker

"Keith's walks take one to parts of New York that one has been meaning to go...fun and informative...so go now and explore the hidden sights of New York."
Sarath Sochannam, Urban Explorer
"Keith Michael and his knowledge of the natural world is extraordinary. I have gone on several trips with NYC WILD! and have been so impressed with his knowledge of everything: birds, earth, trees, history of where we are and what was before. I am always disappointed when I can't go on an outing."
Nancy Shamban, NYC Birder
---
New York City WILD!
2017 Walking Tour Schedule


Click HERE to Make Your Eventbrite Reservation NOW!
WATCH FOR MORE New York City WILD! Walks to be scheduled in 2017!

JANUARY
Sunday, January 1 - Winter Wonders: New Year's Day: Queens: Fort Tilden Photography & Nature Walking Tour
Saturday, January 7 - Winter Wonders: Staten Island: Mount Loretto Unique Area Photography & Nature Walking Tour

Friday, January 13 - Winter Wonders: Brooklyn/Manhattan Bridge: Sunset/Full Moon Rise Photography Walking Tour
Sunday, January 14 - Winter Wonders: Brooklyn: Coney Island and Coney Island Creek Photography & Nature Walking Tour
Sunday, January 15 - Winter Wonders: Manhattan: Central Park South End to Reservoir Photography & Nature Walking Tour
Saturday, January 21 - Winter Wonders: Manhattan: Photograph History: Women's March on NYC (FREE)

Saturday, January 22 - Winter Wonders: The Bronx: Van Cortlandt Park Photography & Nature Walking Tour
Saturday, January 28 - Winter Wonders: Bald Eagles: Croton Point Park Photography & Nature Walking Tour
Sunday, January 29 - Winter Wonders: Brooklyn: Prospect Park Photography & Nature Walking Tour
FEBRUARY
Saturday, February 4 - Winter Wonders: Bald Eagles: Croton Point Park Photography & Nature Walking Tour

Sunday, February 5 - Winter Wonders: Queens: Fort Tilden Photography & Nature Walking Tour
Saturday, February 11 - Winter Wonders: Manhattan & Brooklyn Bridges Sunset/Full Moon Photography Walk
Sunday, February 12 - Winter Wonders: Manhattan: Inwood Hill Park Photography & Nature Walking Tour
Saturday, February 18 - Winter Wonders: Brooklyn: New York Harbor Photography & Nature Walking Tour

Sunday, February 19 - Winter Wonders: Staten Island: Fort Wadsworth to South Beach Photography & Nature Walking Tour
Sunday, February 26 - Winter Wonders: Brooklyn: Dead Horse Bay Photography & Nature Walking Tour

MARCH
Saturday, March 4 - Westchester: Marshlands Conservancy Photography & Nature Walking Tour

Sunday, March 5 - The Bronx: Upper Bronx River Photography & Nature Walking Tour

Saturday, March 11 - Brooklyn: Dead Horse Bay Photography & Nature Walking Tour

Sunday, March 12 - Jersey City: Sunset and Full Moon Rising (Over Manhattan) Photography Walking Tour

Sunday, March 19 - Staten Island: Wolfe's Pond Park Photography & Nature Walking Tour

Sunday, March 26 - Manhattan: Spring at Inwood Hill Park Photography & Nature Walking Tour

APRIL
Saturday, April 1 - Manhattan: Highbridge Park to Dyckman Street Photography & Nature Walking Tour
Sunday, April 2 - Brooklyn: Spring in Green-Wood Cemetery Photography & Nature Walking Tour (FREE)
Saturday, April 8 - The Bronx: Spring in Woodlawn Cemetery Photography & Nature Walking Tour (FREE)
Sunday, April 9 - Brooklyn: Spring in Prospect Park Photography & Nature Walking Tour
Sunday, April 16 - Easter: Spring on Roosevelt Island Photography & Nature Walking Tour
Saturday, April 29 - Westchester: Rye Playland and Edith G Read Wildlife Sanctuary Walking Tour
Sunday, April 30 - Manhattan: Spring in Central Park: North End to Reservoir Photography & Nature Walking Tour

MAY
Sunday, May 7 - Staten Island: Spring in Clove Lakes Park Photography & Nature Walking Tour
---
---